The Best Things to Do in New Orleans This August
Your August To-Do List in New Orleans
Y'all it's hot out there… and while it might slow us down a bit, there's still a ton of opportunities to sweat through some fun this August in New Orleans. Here's your guide for optimizing your fluid loss for your NOLA visit.
What to drink in August:
Pimm's Cup at May Bailey's - my go-to summer cocktail because it's light and refreshing, but you'll find the best one at May Bailey's. Bonus: the bar is haunted.

Piña Colada at The Carousel Bar - I don't like Piña Coladas, but I could drink 5 of these creamy, foamy treats.

Hibiscus tea at Cherry Cofffee & Roasters - for your nonalcoholic option. It's my favorite tea in the city and really refreshing on a hot day.
What to eat in August:
While August being Catfish Month is a bit of a misnomer (you can get fresh catfish most of the year) it's still a great excuse to get some fresh fried fish.
1 | Satchmo Summerfest
When: August 2-3
Where: New Orleans Jazz Museum
Bring: Dancing shoes
Nothing says summer like celebrating the late Louis "Satchmo" Armstrong's 100th birthday this year at Satchimo Summerfest. Thousands of people come out to celebrate all of the New Orleans greats with live music from Kermit Ruffins & the Barbecue Swingers, Preservation Hall Brass Band, Big Sam's Funky Nation and the Tornado Brass Band.
But don't worry: you can get some conditioned respite with indoor concerts and lectures byArmstrong enthusiast as well discussions with musicians inspired by Armstrong.
2 | White Linen Night
When: August 3
Where: Julia Street, Art District
Bring: Booze clutch & whites
If you find yourself in a whiteout blizzard of champaign this summer you've probably stumbled into White Linen Night. It's really fun opportunity to soak in some talented local artists and galleries… and that's all I have to say about that.
3 | Red Dress Run & Dirty Linen Night
When: August 10th
Where: French Quarter
Bring: Your game face
Red Dress is a charity "run" by Hash House Harriers, but don't let the word "run" scare you off. While some do join the "drinking club with a running problem" for an actual… run… the rest of guys and gals squeeze our hairy summer bodies into red dresses for the excuse to wander around the quarter and bask in the summer sun while sipping on Hurricanes. The best part is you can stumble into the party at pretty much any time you like - people will be wandering around in hairy-chest-exposed glory all day.
The best part about Red Dress Run is that it turns into another party, which is an homage to aforementioned White Linen Night. Meet: Dirty Linen Night.
Dirty Linen Night provides a second opportunity to tour local artists, this time hosted on Royal Street, which is famous for being lined with galleries.
4 | COOLinary
When: All August
Where: Select New Orleans Restaurants
Bring: An appetite
It's August, which means there's only two ways to thwart the face-melting heat: crossing to the shady side of the street, and also COOLinary New Orleans. Tourism takes a bit of a dip in the assaulting heat of August, which is why restaurants provide prix-fixe menus at affordable prices.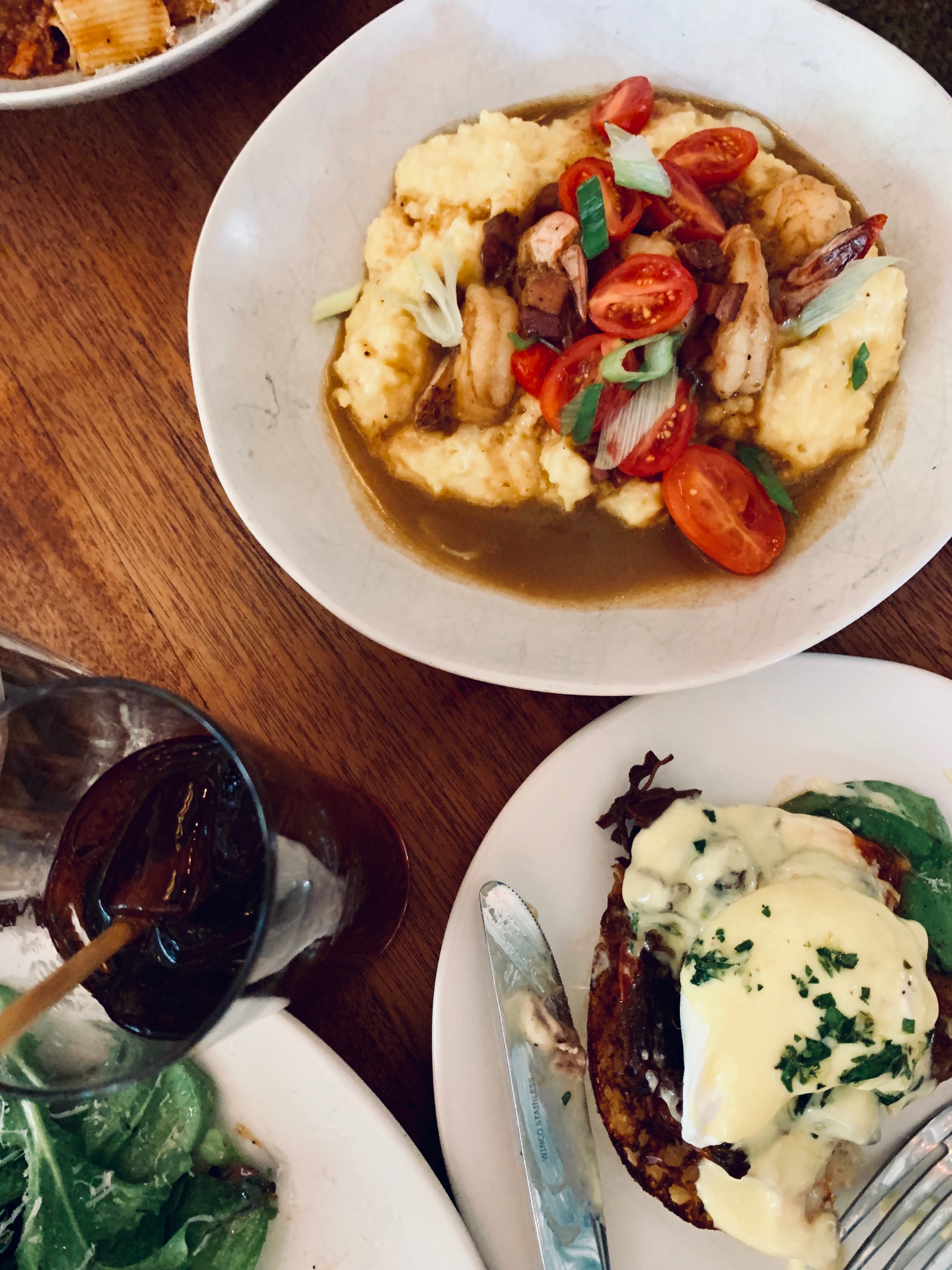 Brunch at Josephine Estelle
Order the shrimp and grits, Eggs Benedict, and pastry plate.
I'm using this COOLinary event to visit some of the restaurants I've never had the opportunity to try so I can relive some NOLA-induced-FSHOMO (that's the NOLA flavor of FOMO, but with a dash of shame).
What's on my radar? Josephine Estelle, August, Murel's, and
Look for a recap on this soon.
5 | Southern Decadence
When: August 29- September 2nd
Where: The French Quarter
Bring: Lots of glitter
Labor Day weekend is also a lot less laborious (and a lot more colorful) with Southern Decadence in town. Decadence is all about celebrating the city's gay community in the best way we know how: parties, parades, brunches, and other fabulous events.
Hosting everything from the Backstreet Boys to Drag Diva Brunches and happy hour events at some of New Orleans' most historic and delicious eateries, Decadence isn't an event you can afford to miss.
6 | How About Dem Saints?
When: All August
Where: The Suderdome
Bring: Black & Gold (& probably a sweater)
That's right, baby, preseason kicks off with Saints versus Vikings. With an enormous chip on their shoulder and a promising season ahead of them, it might not be the cheapest year to attend preseason, but it'll definitely be worth it.
Saints arguably have their best option at tight end since Jimmy Graham. Jared Cook demands attention from defenses... but with Michael Thomas and Alvin Kamara on the field already, all I can say is goooood luck stopping Brees and this offense.
On your way to the Dome, grab some beers (and maybe a few waters) from friendly folks on your way and then stop in at Champion Square for the ultimate Saints pre-game to get you good and hyped.

7 | Running of the Bulls
When: August 23-25
Where: Warehouse District
Bring: Your clothes from white linen night + a red scarf
Now is your chance to live out a fantasy of beautiful women on roller-skates beating you with a bat. Yup, that's right. Join in on the run for a New Orleans interpretation of Spain's Encierro de Pamploma by donning the traditional Spanish colors and be chased by the Big Easy Roller girls on a faced-paced tour of the city.
Y'all have fun and stay cool out there.